The ride is over - our somewhat expected run to the NCAA Regionals is over after a 5-4 loss to Jacksonville this afternoon. It was tough on many levels.
First, the seniors came to the end of their college careers, and that is never easy to take. I've said it before, even as a coach, it's tough seeing their reactions after knowing their college careers are over. Time for the real world. To their credit, they've had an awesome four years here at Manhattan and we as coaches are grateful for what they've meant for the program - 1,000 hits between four hitters and three perfect innings to get us into the 2010 playoffs from the lone pitcher - pretty awesome stuff.
Second, we gave Jacksonville the game. Yeah, 5-4 is a way better score than 17-3, but knowing that 4 of the runs they scored were because we either walked or hit a batter, that's the part that stings. We fought until the last out was recorded - win or lose, I knew we would fight to the end. We don't have shit as far as facilities go up at school compared to this place (or many other places) but our kids work their asses off for this exact moment - to get to the NCAA's. This is what it's all about.
Here's a little photo montage of the week that was here - from NYC to Gainesville. This whole city revolves around the Gators. It's actually pretty neat.
Gate 33 - catching our flight to Florida:
Getting closer to where we wanted to be:
Heading to the practice facility. All smiles so far:
Getting loose on the practice football field (where UF God Tim Tebow practiced) - pretty easy when it's 95 degrees outside:
Walking into the nicest college stadium I have ever seen: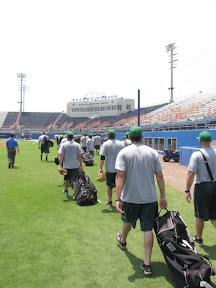 View of the press box and stands: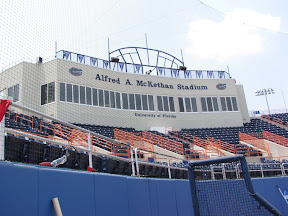 Nice scoreboard (used the blue color accent feature):
The green grass of the field (very similar to a golf course):
The four participants' banners on the left field terrace facade:
Nolan on the plane, getting ready for his first airplane ride:
In the middle of our 17-3 drubbing at the hands of the mighty Gators:
Pretty decent crown on hand for a little school from the Bronx: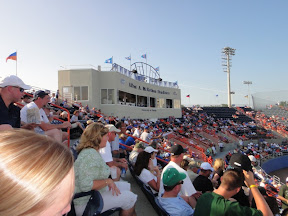 Post-game huddle - trying to remind them that tomorrow is a new day:
Today is a new day - Jacksonville. Dugout is primed and focused:
Checking out the pitching chart, trying to get an idea for the upcoming hitters:
An unpleasant meeting on the mound ("throw strikes and pitch like you have all year" was the message I tried to relay):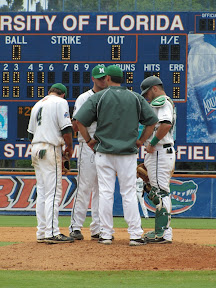 Seeing how the bullpen is doing out in left field: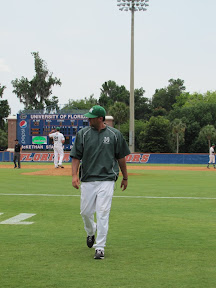 Rally - came up short in the end though:
Overall, 34-19 is a pretty damn good season. It's just a shame knowing you should have won but gift wrapped it for a team that didn't really deserve to win. We lost this last game, Jacksonville didn't win. We gave it to them.
And just like that, poof! The year is over. Some kids' careers are over. Time to hit the recruiting trail and bring in a new crop of talent to help us get back to where we were this week.
This feeling these kids experienced this week, this is something that they'll remember for the rest of their lives - regardless of the outcome. It doesn't happen very often and it's very, very difficult to get here year in year out (unless of course you're Miami (FL) or Florida or Florida St. or Texas or Arizona St., etc. etc.). For a small school of 2,800 this is as good as it gets!
The End!
Location:Gainesville, FL